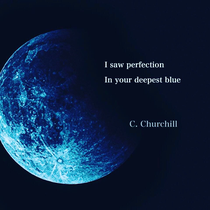 Somewhere along the line we forgot our own perfection. We begin to doubt ourselves and our value in the world. 
We allowed the internal critical voices of can't and shouldn't take over our lives. We followed false imperatives and found ourselves falling into a life of mediocrity and pretense. Our lives slowly but surely became overridden  by fear. 
These imperatives place our value on external futuristic events like:
When someone loves me I will feel complete 
When I'm successful I will be worthy
When I achieve my goals I will be satisfied 
Each one of these statements place our sense of happiness, love and self acceptance in a future realm that doesn't even exist.
Since this kind of thinking equates worth with external achievements then the marker to our self acceptance will just keep moving further and further away.
The way to break this cycle is to radically accept ourselves now. This happens when we recognize that we are indeed complete in this very moment. That there is no accolade or soulmate that could add to this perfection. The perfection of knowingness, knowing our deepest truth, who we are at the very core. 
When we reach that knowingness and our value radiates from this space then everything we create reflects this unmovable self love. 
Please like, share and follow❣
Subscribe to my blog for weekly inspiration and motivation 🙏❤️ www.infinitepotentialsystem.com
For inspired, meaningful and life changing counseling and hypnotherapy you can reach me at 831.234.5735  or email me davitamoodley@gmail.com
Please like, share and follow❣
Subscribe to my blog for weekly inspiration and motivation 🙏❤️ www.infinitepotentialsystem.com
For inspired, meaningful and life changing counseling and hypnotherapy you can reach me at 831.234.5735  or email me at hi davitamoodley@gmail.c